By Patt Keith – pkeith@altoonamirror.com
BLAIR LIVING Magazine (JUNE/JULY/AUGUST 2023)
HOLLIDAYSBURG – When Don Rothrauff experienced lower back pain three years ago, he found relief when he improved his home office workstation thanks to the experts at McCartney's Workplace Solutions, a commercial furniture, copier and office supplier at 819 Howard Ave. in Altoona.
He invested in a standup desk that brought his monitor and keyboard into alignment with his 6-foot 5-inches tall frame and purchased a high-quality chair with adjustable seat height, articulating arms and other features.
"My back feels so much better," said Rothrauff of Hollidaysburg, founder and CEO of WristClean®, which creates and sells internationally a luxury watch and jewelry care line. He works 8-10 hours a day to accommodate clients from 65 countries.
A white board in McCartney's boldly proclaims "you deserve a good seat" – a slogan grounded in science, said Tracey Baker, who works in marketing, sales and design at McCartney's.
Rothrauff and many others found themselves working from home sitting at the kitchen table and backs, necks and wrists paid a price. The commercial furniture market responded and met the increased need for home office furnishings and flexible office workplace configurations, Baker said. McCartney's, a Steelcase authorized dealer, has a variety of options and price points for customers in chairs, desks and other ergonomic accessories and carries many different brands.
"There's a lot of science that goes into a well-engineered chair," Baker said. "Most people don't understand all that you can get out of a chair. There's a lack of knowledge about what features and options exist and how a well-engineered chair should support you."
To educate customers, Baker will have them try Steelcase's Gesture or Leap chairs, two of their biggest sellers with top of the line features.
"This is what it should feel like and what a chair can do for you," Baker said. "Then we look at what your budget will allow and whaat's most important to you. Do you have neck and shoulder problems? Do you have hip pain? That tells us what features are going to be most important as we step down."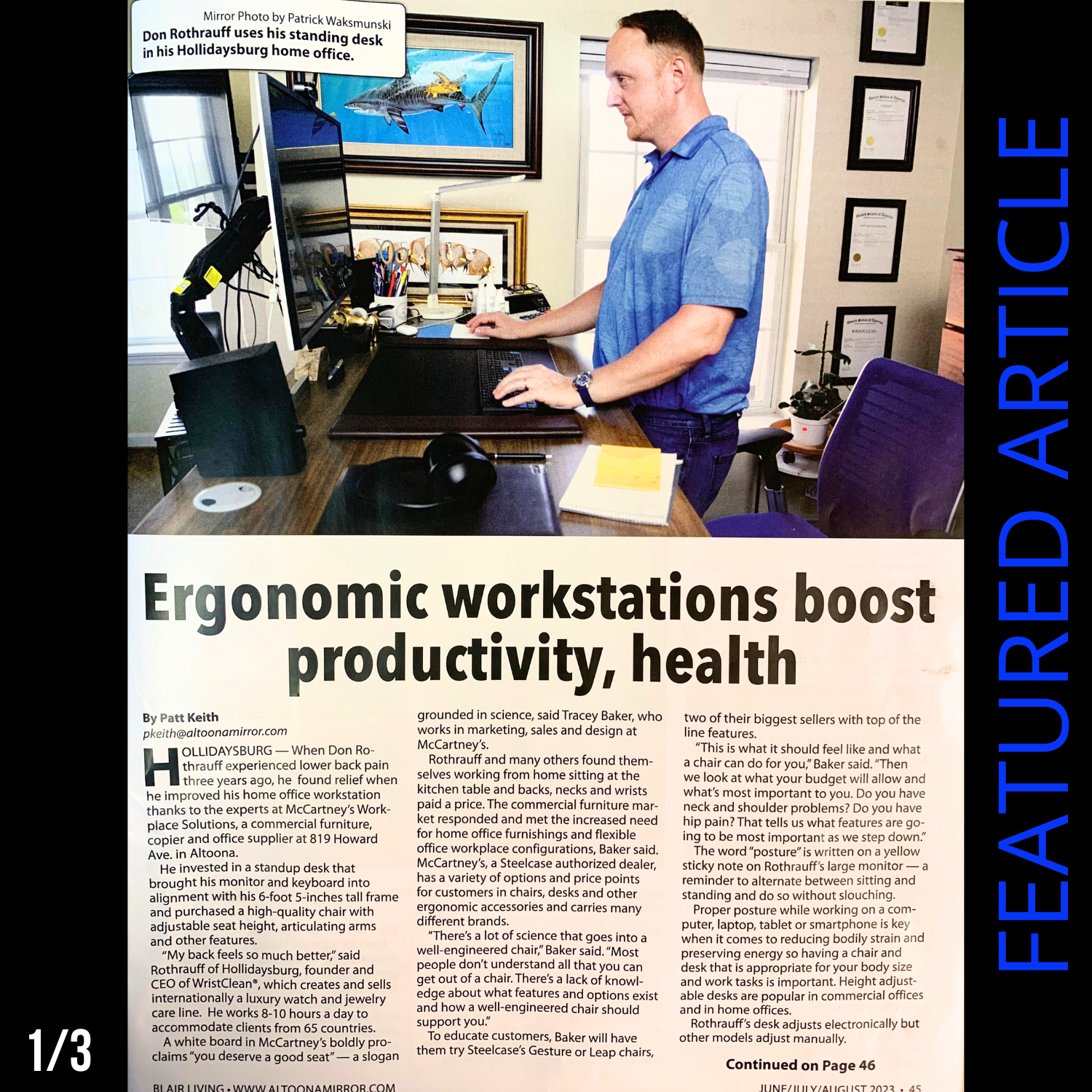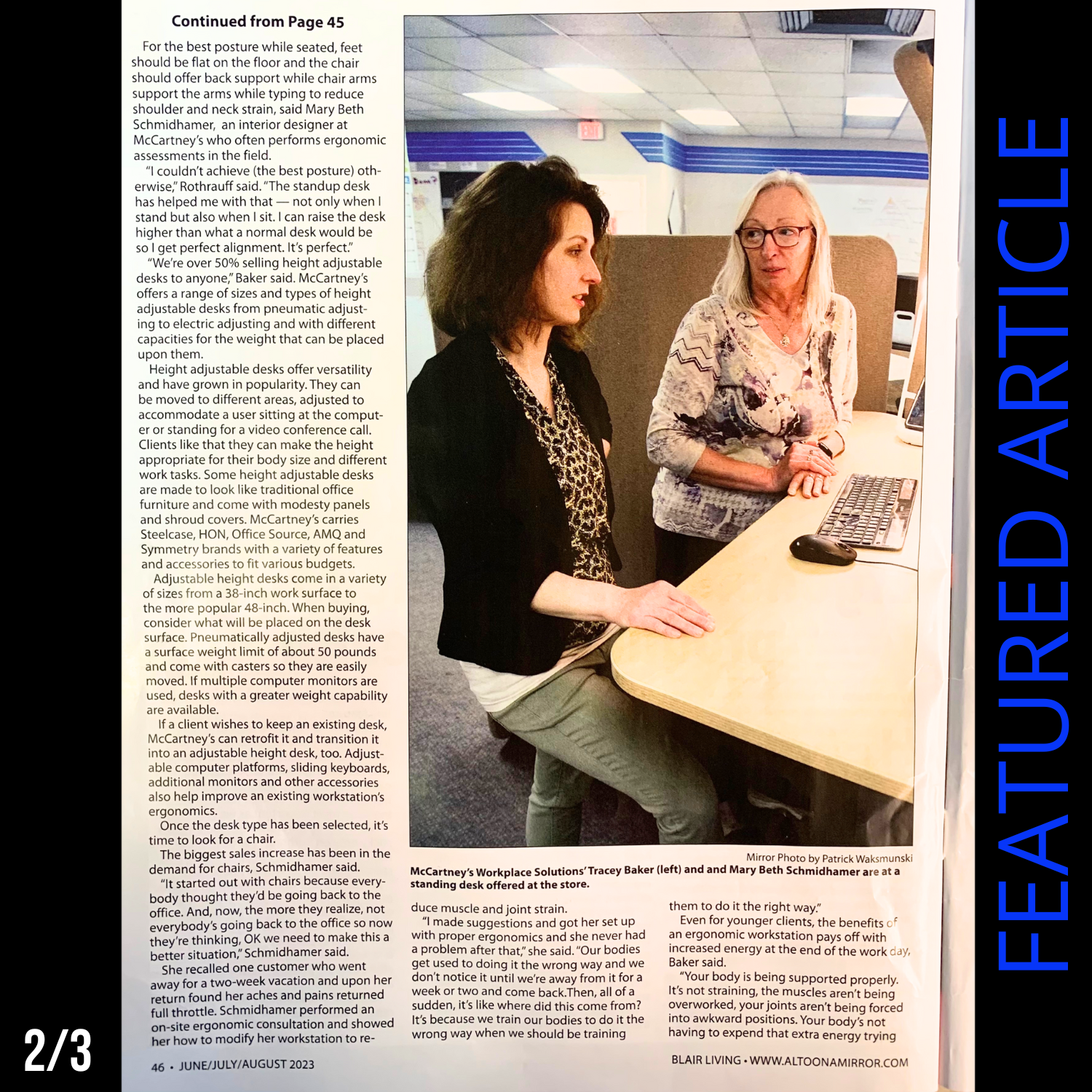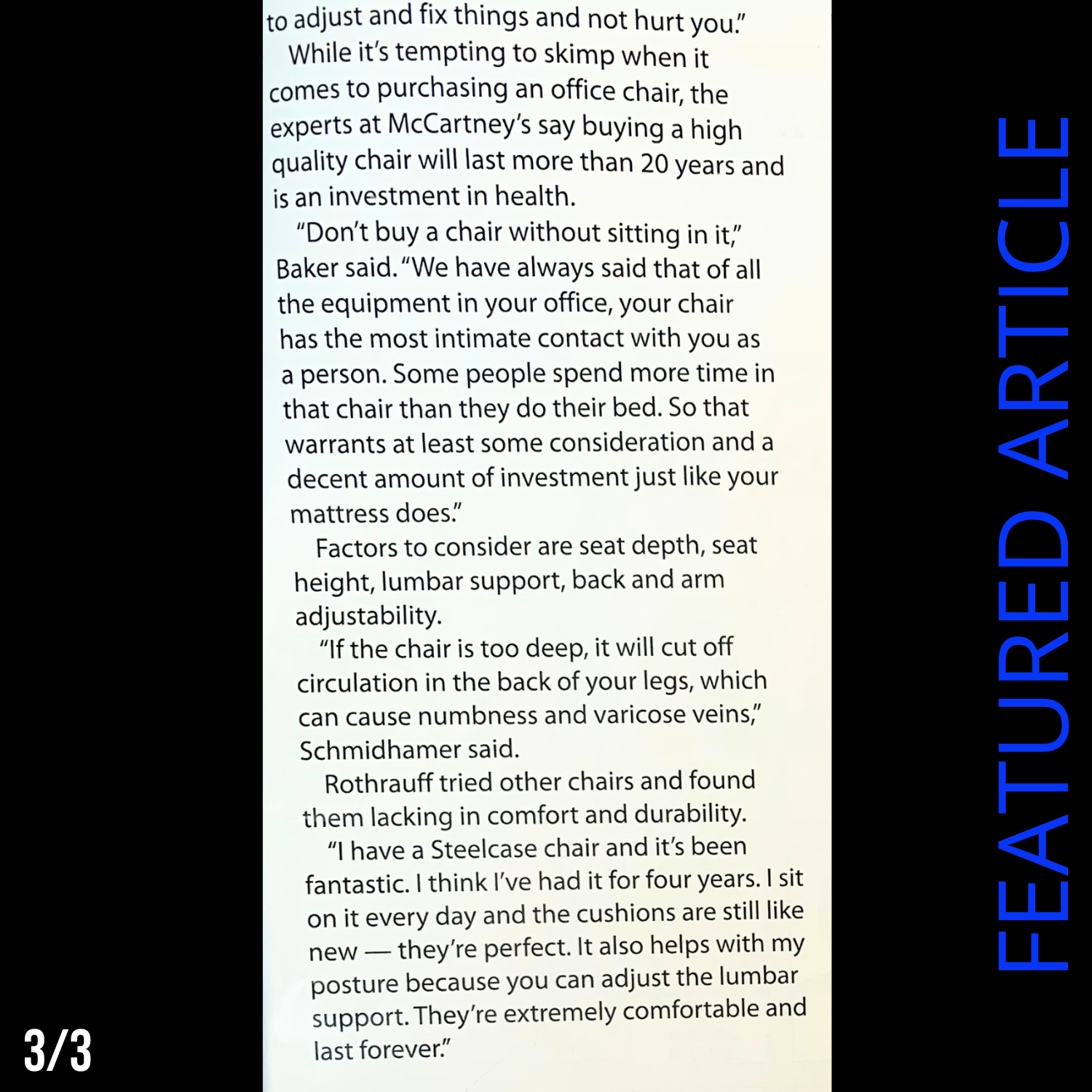 The word "posture" is written on a yellow sticky note on Rothrauff's large monitor – a reminder to alternate between sitting and standing and do so without slouching.
Proper posture while working on a computer, laptop, tablet or smartphone is key when it comes to reducing bodily strain and preserving energy so having a chair and desk that is appropriate for your body size and work tasks is important. Height adjustable desks are popular in commercial offices and in home offices.
Rothrauff's desk adjusts electronically but other models adjust manually.
For the best posture while seated, feet should be flat on the floor and the chair should offer back support while chair arms support the arms while typing to reduce shoulder and neck strain, said Mary Beth Schmidhamer, and interior designer at McCartney's who often performs ergonomic assessments in the field.
"I couldn't achieve (the best posture) otherwise," Rothrauff said. "The standup desk has helped me with that – not only when I stand but also when I sit. I can raise the desk higher than what a normal desk would be so I get perfect alignment. It's perfect."
"We're over 50% selling height adjustable desks to anyone," Baker said. McCartney's offers a range of sizes and types of height adjustable desks from pneumatic adjusting to electric adjusting and with different capacities for the weight that can be placed upon them.
Height adjustable desks offer versatility and have grown in popularity. They can be moved to different areas, adjusted to accommodate a user sitting at the computer or standing for a video conference call. Clients like that they can make the height appropriate for their body size and different work tasks. Some height adjustable desks are made to look like traditional office furniture and come with modesty panels and shroud covers. McCartney's carries Steelcase, HON, Office Source, AMQ and Symmetry brands with a variety of features and accessories to fit various budgets.
Adjustable height, desks come in a variety of sizes from a 38-inch work surface to the more popular 48-inch. When buying, consider what will be placed on the desk surface. Pneumatically adjusted desks have a surface weight limit of about 50 pounds and come with casters so they are easily moved. If multiple computer monitors are used, desks with a greater weight, capability are available.
If a client wishes to keep an existing desk, McCartney's can retrofit it and transition it into an adjustable height desk, too. Adjustable computer platforms, sliding keyboards, additional monitors and other accessories also help improve an existing workstation's ergonomics.
Once the desk type has been selected, it's time to look for a chair.
The biggest sales increase has been in the demand for chairs, Schmidhamer said.
"It started out with chairs because everybody thought they'd be going back to the office. And, now, the more they realize, not everybody's going back to the office so now they're thinking, OK we need to make this a better situation," Schmidhamer said.
She recalled one customer who went away for a two-week vacation and upon her return found her aches and pains returned full throttle. Schmidhamer performed an on-site ergonomic consultation and showed her how to modify her workstation to reduce muscle and joint strain.
"I made suggestions and got her set up with proper ergonomics and she never had a problem after that," she said. "Our bodies get used to doing it the wrong way and we don't notice it until we're away from it for a week or two and come back. Then, all of a sudden, it's like where did this come from? It's because we train our bodies to do it the wrong way when we should be training them to do it the right way."
Even for younger clients, the benefits of an ergonomic workstation pays off with increased energy at the end of the work day, Baker said.
"Your body is being supported properly. It's not straining, the muscles aren't being overworked, your joints aren't being forced into awkward positions. Your body's not having to expend that extra energy trying to adjust and fix things and not hurt you."
While it's tempting to skimp when it comes to purchasing an office chair, the experts at McCartney's say buying a high quality chair will last more than 20 years and is an investment in health.
"Don't buy a chair without sitting in it," Baker said. "We have always said that of all the equipment in your office, your chair has the most intimate contact with you as a person. Some people spend more time in that chair than they do their bed. So that warrants at least some consideration and a decent amount of investment just like your mattress does."
Factors to consider are seat depth, seat height, lumbar support, back and arm adjustability.
"If the chair is too deep, it will cut off circulation in the back of your legs, which can cause numbness and varicose veins," Schmidhamer said.
Rothrauff tried other chairs and found them lacking in comfort and durability.
"I have a Steelcase chair and it's been fantastic. I think I've had it for four years. I sit on it every day and the cushions are still like new – they're perfect. It also helps with my posture because you can adjust the lumbar support. They're extremely comfortable and last forever."